I think that creating your own style and manner is parallel to your vision and perception. As I've always said and actualized, doing a lot of research is its part of it. The more you fill your eyes and brain, the more your style of taste is shaped accordingly.
How did your interest in fashion begin? How do you define fashion in person?
My interest in the fashion world began by collecting photos that I liked from magazines at a very young age. I was designing my own magazine and was interested in fashion shows. Then I stepped into journalism by starting as an advertising and catalog styling assistant. I define fashion as combining it with the popular within the framework of its own style.
You are giving lectures on Styling and Fashion Editing at Istanbul Fashion Academy. So you know both the theory and the application of this work. What would you like to tell us about this?
Especially, no matter how much you tell fashion shoots, it is an area where you will spend a lot of time in practice and gain experience. The more you make articles and interviews, the more you gain knowledge and experience. I try to explain communication which is the most important thing in our sector as much as possible in my lessons. In addition, we try to give both the theory and the shooting experience at school so that our students better understand what they can do next. I think they will be more successful in business as they grasp the foundations of both..
When we say fashion, you are one of the first names that come to mind and Zeynep Soylu has a unique style. How did you manage that?
I think that creating your own style and manner is parallel to your vision and perception. As I've always said and actualized, doing a lot of research is its part of it. The more you fill your eyes and brain, the more your style of taste is shaped accordingly. A pleasure I extracted from my family at a young age and my observations in my travels are among the elements that make up the style of Zeynep Soylu. I think that I always add new interpretations to my style with the visual memory I keep constantly active and the openness of my character to innovations.
What is your favorite style-concept from the latest trends? Which elements will come to the fore in the coming season?
I can say that my favorite is micro bags that I have recently used. In addition, stiletto slippers and boots are becoming more coarse are among the most favorite trends. As an accessory to the list of things you should definitely buy next season, you can add earrings with the kingsize, and narrow trousers (where you can tie the top of the wide collar with the laces of your stiletto). With the spread of technology, the functionality of clothing and the use of useful and environmentally friendly fabrics that take up less space will increase.
Let's talk about denim fashion. Denim has a different world. What will we be prominent most in thee podiums and street fashion in the new season? Denim is different from the fashion world and has a unique style. Have you had any denim styling work? What do you pay attention the most when working in the denim field?
Denim has a distinctive style as you said. While there were only denim brands in the past, most brands started to produce denim in themselves right along with fast fashion. Denim production, which is suitable both for color scale and for every body type, has started to spread. The fact that denim is a piece of statement in itself is more minimal in my works and to advance without mixing other fabrics. With the denimondenim trend, I prefer to use the same shades of denim together. I usually use denim by enriching it with more accessories. I've done works where we differentiate denims by using customize products, embroidery or stones.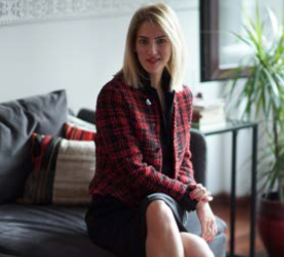 Who are your favorite designers and fashioners? While giving lectures at İMA and giving place as news-interviews in your magazine, what people and which style do you show exemplify the most?
Demna Gvasalia, who is still the creative director of Balenciaga upgrading the brand to its currnt position as the chief designer of Vetements, is my favorite designer. Gökay Gündoğdu, the founder of T.A.G.G Fashion, is my favorite designer among Turkish designers. He analyzes the female body quite well and combines how to show every type of body with a business mindset. In my lectures and news topics, I try to select people who will add different visions and develop students. I don't think it would be right to standardize it in one mold. Of course there are times I give examples of influencers to names that are close to my style. But what remains important here is to bring successful people with unique ways with people and provide a different perspective.
What do you think about Turkish fabrics as a fashion designer, style consultant, instructor and fashion editor?
Turkish fabrics are of very good quality and of variety. When we anayse it, it is obvious that we are very successful in production. In terms of both fabric content and embroidery, our motifs etc. are very wide. There is a lot of content in our country that will inspire us. We need to combine this with the right marketing strategies. I think that if we use the values in our country correctly, we will be very successful when we read Anatolia well and evaluate our land in every field. I wholeheartedly believe that we can be very successful when we utilize the values in our country accordingly and truly read Anatolia well and evaluate our land in every field.
Last but not least, what are your thoughts about sustainability, which stands out in almost every sector, especially in fashion today?
The reason why sustainability has emerged in recent times is that the world's reserves are decreasing day by day. Unless we value this issue, the problems will be indespensable in all areas. In fact, it is an issue that I have cared about in every aspect of my life for years. What is important here is not a fast-consuming product, no matter what the field is, but to create a solid infrastructure that will spread over the years and develop gradually. When you make your business plan as 6 months, 1 year, 5 years, you automatically create your sustainability. Since the strategy of fashion is based on consumption, I think this is contrary to the structure of the business line although it is tried to be actualized. Therefore we are trying to prevent the recent consumption frenzy by using environmentally sensitive fabrics and supporting recycling. I hope we can succeed..