What do you think about how do the future mega trends affect the Denim World? How is your company preparing for this situation?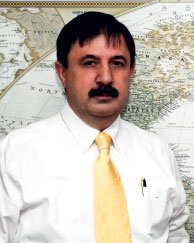 Green and clean sustainable denim production is the latest trend in Denim Industry. A Turkish company achieved a first in No Hand Touch finishing technologies for Denim Industry. VAV Technology Company developed high-tech PREDATOR laser machines, Eraser Brush Robots and Da Vinci Spray Robots for sustainable and No Hand Touch production.
New Predator laser machine equipped with revolutionary Never Ending Power laser tube and innovative F- HDR software. You can reduce the running cost of the machine with Neverending power laser tubes. F- HDR Software supply, No Hand Touch denim production. No Stone Wash, No PP, No Hand Scraping.
The Company's Vice President Mr. Aydin KUMBARACI informed us about VAV Technology's products:
Mr. KUMBARACI stated that VAV Technology Company's aim was to solve remaining problems in production through high technology. He also stated that the Company's only purpose was not being a production focused organization but most importantly to protect the environment and human health, therefore, we focused on No Hand Touch sustainable denim production technologies.
Mr. KUMBARACI mentioned the airborne particles and dust problems in dry processes are a very big issue for human health besides quality consistency when manually doing Moustache, Rodeo, and hand scraping. The Company's solution to these problems is the Predator laser Machines with F HDR Software.
Mr. KUMBARACI: "In denim production, some chemicals like resin and permanganate, are manually sprayed out on the products. This dangerous process is damaging the quality of the product as well as the workers' health and environment. With the Da Vinci Robots developed by VAV Technology, human health and the environment are protected and companies' quality and efficiency problems are solved. While decreasing chemical consumption, these systems achieve a real sustainable production and protect human health".
Mr. KUMBARACI explained the new Da Vinci Spray Robots for the problems in wet (spray) processes. He underlined that these robots were not only produced to increase the quality and efficiency of production but to minimize health and environment problems stemming from the textile production. He especially stressed that it is everyone's social responsibility to create and protect a healthy environment and VAV Technology is trying to do its best.
Mr. KUMBARACI pointed that the leading and prestigious denim producers are using VAV Technology machines and he talked about the good news in Research and Development studies for new Sustainable Production systems for denim producers. VAV Technology provides solutions to all problems in denim production with its Predator Lasers, Eraser Brush Robots, Technoflow, Ozone and Spray Robots.
Mr. KUMBARACI finally stated that "we do not want to be a machinery producer merely, we would like to be a company producing services and creating values. Beside this, our purpose is to be the first address for all denim producers in solving their production problems".
Aydın KUMBARACI
Vice President