When and how did your adventure in the world of fashion and design begin?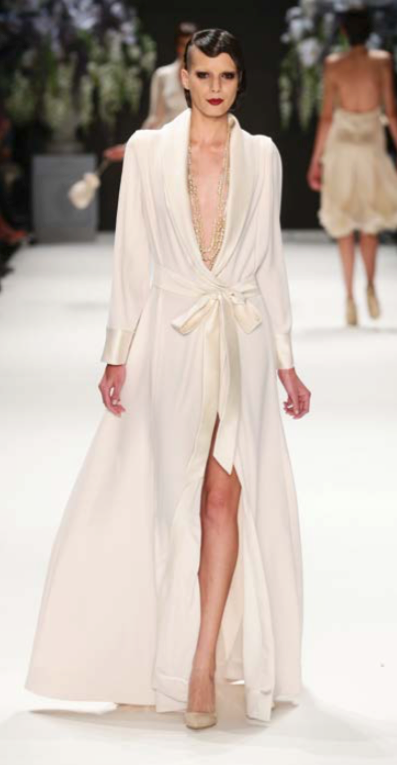 My tendency towards fashion goes back to my childhood years, but I started to actively participate in the sector in 1991 when I worked as a fashion editor in various magazines.
How did the trasition from fashion editing and blogging into fashion desing and owning a brand, A46 come out? Would you like to elaborate the process?
I decided to progress in the field of decoration or fashion design when I was studying Industrial Design at Mimar Sinan University.
I opened my first brand A46 with my husband Selim Demir as a concept boutique that imported international design brands at Nişantaşı Abdi İpekçi Street in 1999.In time, I decided to place my own designs instead of imported brands. As we started to produce with the logic of preparing collection in accordance with the world fashion calendar, we established the TUVANAM brand and then the Tutti brand which includes our daily-chic collections.
How did the trasition from fashion editing and blogging into fashion desing and owning a brand, A46 come out? Would you like to elaborate the process?
The target group that I enjoy to see wearing my designs is; the ones who are self-replicating type every time, pioneering with innovations, egoless, who can take good care of oneself, zippiest enough to be happy in his inner world, who can draw attention by difference.
The design process starts with inspiration as everyone knows. My source of inspiration is; my business life and private life in which I am personally involved, and live in to the fullest with excitement, labor, competition.
Anyone who lives in this life and shares her story becomes part of this inspiration.
I know a lot of women in my environment because of the work I do. I want to carry them all to my collection when I come to the end point of the designs I created for them by listening to the story of each and every one of them. Then, a collection, bringing the season's total accumulation with handcraft quality and craftsmanship under a common theme is emerging.
My collections reach our domestic and international customers in our Nişantaşı store and Paris showroom.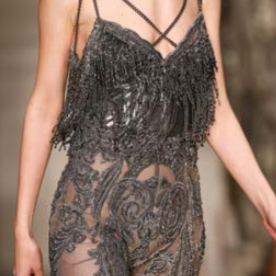 Do you have a particular style, color or fabric choice in your designs? What is your opinion about the Turkish fabrics?
I have prepared so many different col- lections so far, influenced by powerful women in the history and other starting points that I can exemplify more..
For example, collections inspired from Istanbul's brutalist structure, to Ani Ru- ines in Kars, from hand-weaving Kutnu fabric of Gaziantep, to the glory of the 19th century, from the architecture of Art Deco, to ancient Greek etymology, to street fashion, from romanticism of the 1920s, 30s and 40s, to the giant productions like ''Game of Thrones'' and ''Great Gatsby''.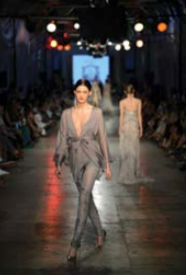 Personally speaking, I'm very open to change. Therefore, the fabrics and colors I prefer differ in the spirit of the collection.
When it comes to Turkish fabrics, I am a designer who experienced the athmosphere of indoor bazaar and had love with hand-woven special fabrics and gravitated towards the profession. Just as I mentioned before, there is a fahion show consistsing of hand-woven kutnu fabrics belonging to Gaziantep only.
In addition, many of the previously imported materials and fabrics are produced in our country today.In terms of technology and material richness, our country is one of the few countries in the textile industry in the world.
Sustainability and recycling is currently on the agenda and a must for the healthy future of nature and humanity. What do you do in terms of both design and production?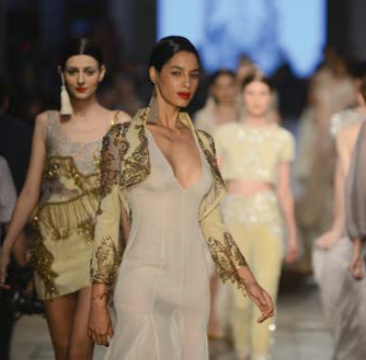 Many giant brands, once the pioneer of fast fashion in the past,are pioneering sustainable fashion with their collecti- ons specially prepared.
This is a fundamental fact that we should always show sensitivity. First of all, everything starts by making this consciousness our way of life.
I am a person who acts with this consci- ousnessand produces and implements the transformation in my personal life and in my business life. I prefer natural and organic fabri- cs such as silk and cotton in my collections.
I tried to draw attention to this issue as much as possible by taking part in many social responsibility projects such as: designing environmentalist bags for a grocery chain, or nature friendly cloth bag within the scope of Zero Waste project, transforming an old piece from the cabinet of beloved Burcu Esmersoy's into a new and different design in a special project carried out by Vogue Turkey in order to draw attention to this phenomenon.