Sudi Etuz, which is one of the highly anticipated fashion shows of the season with its collections in Mercedes-Benz Fashion Week Istanbul as well as its stories and fashion shows, has introduced its Spring & Summer 2020 collection in Unkapanı Bazaar of Records.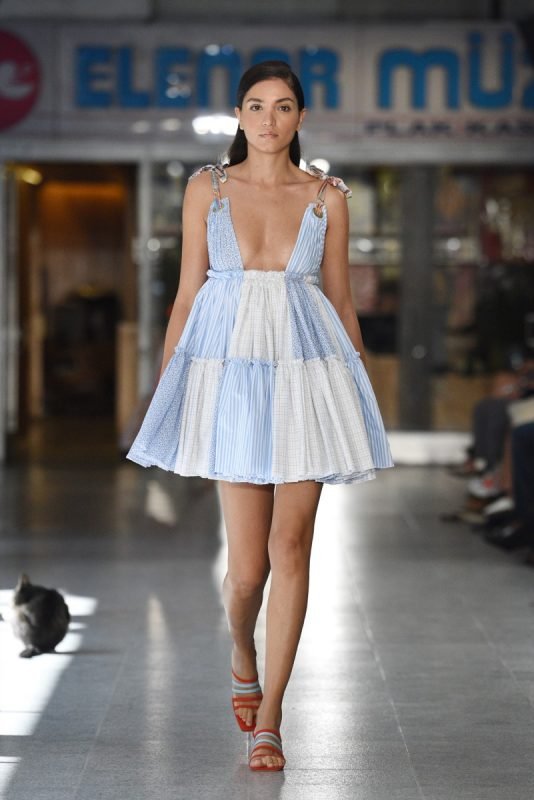 The story begins when Şansım Adalı, the designer of the Sudi Etuz brand,combines her research upon seeing a fashion shoot made in a space with her own designs in the "Calling" magazine, and being fascinated by the kitch view of the bazaar with the desire to remind new generations and the people coming from abroad the places that they have forgotten in Istanbul yet they know very well..
IMÇ; Istanbul Manifaturacılar Bazaar (currently known as Unkapanı Bazaar of Records), was once subjected to the stories of people who came from Anatolia to enjoy a good reputation in the narratives and movies. It is now Turkey's first major market and known as an open-air museum hosting the works of eight contemporary Turkish artists. Şansım Adalı stands out as the first designer who is able to perform a fashion show with her brand Sudi Etuz in the bazaar harboring all these exclusive features.
As it is known and expected by everyone in this season, a dynamic and colorful collection, boosting people's morale stands out at Sudi Etuz. While colors such as orange, green and khaki are the prominent colors of the collection, very bright colors significantly stand out. The designs made with denim is breathtakingly fascinating while Tulle, poplin, and silk are mainly used as vital materials.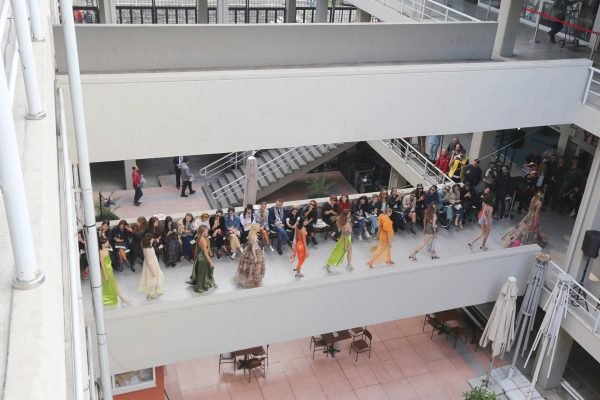 The designer who likes to see women in alternative forms in clothes, adds Sudi Etuz interpretation to her voluminous designs emphasizing the waist, by using corsage and binding techniques, in addition to the exaggerated arm silhouettes that became the signature of this season.
Sudi Etuz, who collaborated with the artist Yonca Karakaş in the collection consisting of 30 looks, comes out in swimsuits by printing a special technique from Karakaş's paintings. For this cooperation, Yonca Karakaş said that: " In 2017, we had a collaboration in Sudi Etuz's Earth & Ocean collection. I think that the designs of Şansım coincide very much with my artworks and that her stories support each other. It is a pleasure to be able to sign a joint work ".
The shoes, which was complimentary to clothes were specially prepared by Sculpture for the fashion show with thick, short heel. MAC for the make-up and LOREAL for the hair design were used in the fashion show where choreography taken by Uğurhan Akdeniz, style consultancy made by Oğuz Erel and music composed by Şirin Ediger.
ABOUT SUDI ETUZ: Şansım Adalı, the creator of Sudi Etuz, was born in 1982 in Istanbul. She graduated from the Department of Translation and Interpreting Studies at Bilkent University. He spent 2004-2005 academic year in Brussels, during this time he attended drawing classes and workshops in Antwerp. After completing her French education in 2006, she started the Fashion Design diploma program at LaSalle Academy Istanbul. She presented her first experimental performance in Trend Show 2008. In 2009, she attended the LaSalle Academy Graduation Fashion Show, which took place within the scope of Fashionable Istanbul, which included fashion shows of brands such as Vivenne Westwood, Salvatore Ferragamo, and Roberto Cavalli. Şansım Adalı, presenting the first women's clothing collection in 2009 with the Sudi Etuz brand, opened the doors of the concept store called Kumpanya62 which includes the collections of the new generation Turkish designers on their hangers and hosts various exhibitions and experimental presentations in addition to her brand in 2010. Interpreting the cult details in a modern style, the designer was deemed worthy of the best fashion designer award of the year at the Best of the Year Awards Ceremony, held by Okan University in 2016. Sudi Etuz aims to create romantic, feminine and elegant women via her brand. In addition to the Sudi Etuz Nişantaşı store, She also exhibits her collections, which are produced in its workshops, in Gizia Gate and Beymen stores.