Textile is one of the vital sectors in terms of our country's exports and economy. It has a respectable profile for the designers and professionals of the companies it hosts. Turkish textile, which has transformed the developments in technology in the last 10 years, into innovative products and transmitted the latest trends from fabric to apparel to world brands, is forthcomingly moving towards in shaping itself into the future.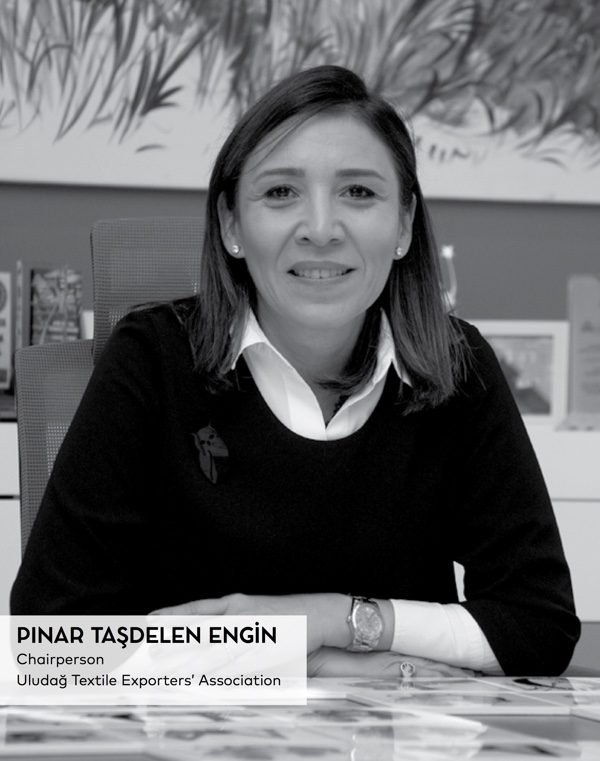 Macro trends that affect the world map out a new route in the textile and fashion industry. Sustainability is no longer a choice but a necessity. Nowadays, instead of thinking about producing and selling a product, we are moving on to technologies that aim the minimum waste and damage to the world and recycles products back into the industry and it is now possible to use sustainable energies for all this. We, as Turkish Textile and
UTIB, set out to implement this philosophy into our country
and our industry. When promoting conscious production, we are totally aware that a sustainable consumption environment will be provided in nature and we will be the pioneers in this transformation process. In our projects launched out in various countries of the world, projects and efforts that combine the philosophy of sustainability, are our top priorities in addition to our innovation and design power. In this sense, We are launching out an "Ecological Textiles" P&D Project, in order to help our companies to follow global changes closely and to adopt these developments into their own production models.
Within the scope of our project, we aim to provide the necessary vision to our member firms with the training, needs analysis and consultancy services to be carried out within the scope of the project by following the global changes and innovations and
to create a culture of innovation in our region and to become a global brand in the field of textiles.
Denim is one of the most active branches of Turkey in the textile world. Turkey maintains its position in the top 3 in the world of denim export and is the world's most important country, especially on the basis of innovative, creative value- added products. We export denim fabrics to approximately 90 countries and regions and export denim garments to over 150 countries and regions. Today, the products of world-leading jean brands are produced in Turkey.
From yarn to fabric, to various products and accessories, the denim sector has an infrastructure that can use and market the technology, knowledge, and design to improve itself. Above all of these values, the necessary steps to be taken towards sustainability are being implemented rapidly. As the actors of the Turkish Textile Industry, we take the necessary steps to be the most effective country in the world market with our facilities, manpower, and products for a sustainable future. This issue, beyond the trend or competition, is a great responsibility for humanity and we are aware of it.
We combine the concept of sustainability with denim and design in our latest project, Milano Denim Premiere Vision.
We are participating in this fair with 21 companies within the scope of national participation organization. We will share the combination of ''Turkish Denim – Future, Sustainability '' with a creative workshop with international designers, participants, and press. Our goal is to turn fashion, a giant chain of consumption into a sustainable model. For this purpose, we will continue to carry out new projects in the Turkish textile sector and to maintain our activities that guide the industry..