When I create my designs, I give importance to the local elements and the details they contain and I try to create clothes that fit the modern line of current.
Can we know more about Merve Odabaşı, who is a fashion designer born in Bursa, the Capital of Textile?
I was born in Bursa in 1987 and graduated from Dokuz Eylül University, Department of Textile and Fashion Design. With my professional career which I started in Lug von Siga, I was chosen as the young fashion designer of the year by receiving the first prize in the 23rd Koza Young Fashion Designers Competition held in 2015..After the graduate education at Istanbul Fashion Academy, I received my master's degree at Istituto Marangoni, Italian Fashion and Design School. In this process, I had the opportunity to prepare capsule collections for the Italian fashion designer Rosella Jardini and Giorgio Armani, who were creative directors of Moschino.
I also lived in Milan for two and a half years in Italy. In this process, I worked with the famous fashion brand Vionnet Paris with Goga Ashkenazi as a Fashion Designer.
In Milan Fashion Week, the most important fashion week in the world, together with New York Fashion Week, my designs took place under the Vionnet Paris brand. In this period, we also worked with world-famous models Winnie Harlow and Mădălina Diana Ghenea in various advertising projects and fashion shows.
You have an opinion that Turkish people are fond of colorful, vibrant clothes. Do you lean towards local elements and act with your imagination and inspirers while designing your collections?
Turkish culture is a rich and eclectic culture with its own valuable characteristics and colorful cultural values. With this in mind, when we look at people's clothing habits, it is possible to see the interest in vibrant and colorful clothes. For this reason, I created my ''Quilt'' collection, which achieved phenomenal success, based on our traditional values and color.
When I create my designs, I give importance to the local elements and the details they contain and I try to create clothes that fit the modern line of current. We can actually call it a kind of karma. The combination of tradition and imagination can create very creative, colorful and remarkable designs.
What kind of style does your last collection possess? and Who exactly it appeal to?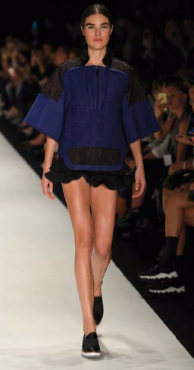 In my last collection called '' Trice of Chisel ", I created a different and innovative work by adapting the motifs and patterns of wooden engraving to the minimal clothing designs.
We set out from a classical handicraft, but we added a different perspective to the clothes that had modern and stylish lines. Woolen fabric, used for men's suits, and embroidery were used together.
The goal of the designs I have created adresses to women who want to look different, sporty and stylish, in their social lives, and who are fond of comfort and minimal lines.
What kind of fabrics do you prefer when creating your collections? Can we get your thoughts on Turkish fabrics?
In my last two collections, I chose to use natural fiber fabrics. I like innovative approaches in my designs, and as I mentioned in the previous question, I used woolen cloth for men's suits in my last collection. This surely diversified my designs. Because fabric selection plays an important role in the success of clothing designs and directly affects the result. The production quality of Turkish fabrics is very valuable in terms of rich variety and color. In terms of fabric, I think that he most important and prominent city in my hometown of Bursa. ☺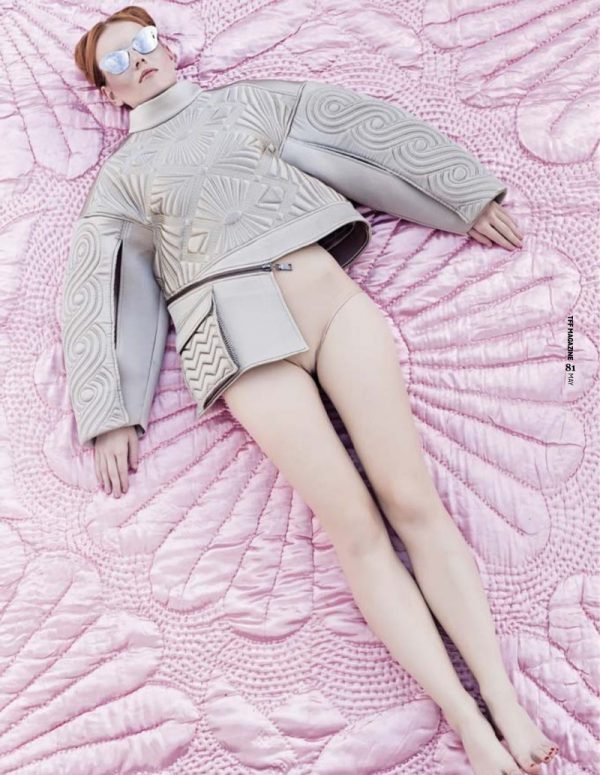 In addition, various fabric design competitions organized in our country add significant value to the development of the sector and increase diversity.
As a new generation young and talented designer, what do you think about sustainable fashion? Would you like to tell us about your future goals?
With the development of the fashion industry in the world, the rapid consumption habits which are becoming more and more widespread today made us forget to question the production processes, the materials used and the effects on our health. One of the most important factors in this unawareness is the swift changes that takes place in fashion trends and the state of flux. For this reason, I fully endorse the idea of using recyclable, natural and sustainable materials as much as possible, and I 85 think this is very important for our future.
In addition to the new and creative designs that I plan to create among my future goals, I aim to create an information library that I think will contribute to the young designers who want to take the step or are interested in the sector.
In this context, I am also working to implement the Turkish digital fashion dictionary project, which includes technical terms and explana- tions used in Turkish and world fashion industry.