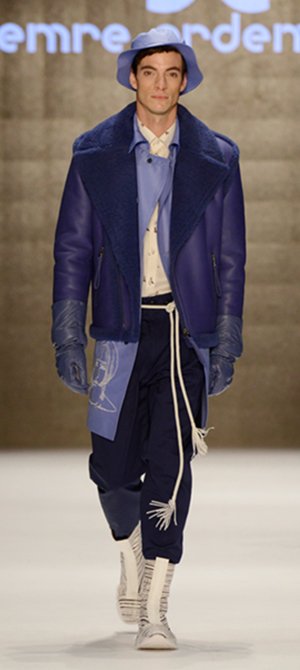 You've brought out your new collection, "Pick me, Don't pick Her" (Onu alma, beni al), which was held at Mercedes-Fashion Week last week, with fashion lovers for the first time. Can you tell us the story of this collection that attracts great interest and attention?
In Emre Erdemoğlu 2019-2020 Fall-Winter collection, we emphasize the theme of '' PICK ME DON PICK HER'' which is riveted by the infinite power of love in the relationship between past, future and moment, and in the axis of emotions, dreams, and realities.
Inspired by Sezen Aksu, our collection has an optimistic attitude towards the future that is awaiting us, especially at a time where our faith in love has disappeared.
In the whole collection, Sezen Aksu's songs and portrait are designed to step by step. In all the details, Sezen Aksu's portrait is interpreted in a graphical language and the lyrics were injected into the collection.
Why did you prefer to choose Sezen Aksu and her works?
I love the way she interprets and tell love. Her sense and story are always so eminent. The emotion and story are always so high. It gives a feeling as if that is the reason why she landed in this country. It is her mission obviously. Sezen is a very special woman. There is definitely a Sezen Aksu song even for a person who says he or she does not like!
What are the colors of men this summer? What kind of details and colors are expected for men? What will we see in your collection?
In the collection where the 70s retro stream is combined with street style, oversize form coats, print patterned shirts, wire embroidered jackets, piece-dye velvet sets, flying trench coats, lilac long hand-knit belts are among the details we frequently encounter in the collection. The timeless classic interpretations combined with the details created with the experimental attitude give the opportunity to re-perceive the traditional attitude. The two-pole collection presented together with warm and cool colors makes the collection even more striking and fun.
The team understanding by which we give the player a personality with the new one-piece product qualities developed with the Street Fashion approach was designed to accommodate new-fit recommendations, with our as-usual fit's. Emre Erdemoğlu brings a long-term dynamism to his men.
The collection, prepared with special finish fabrics, reinforces its claim to bring a new breath to the Italian style.
The trousers we have developed with high waist cuts in different fittings, wide-shoulder silhouette jackets, and smoothed-curved shoulders are expanding the recommendations and descriptions. In this season we concentrate on the mastery of creating a younger and more striking silhouette, we revealed an optimistic attitude towards the future with special sewing techniques and semi-tailor-made craftsmanship.
What kind of character does Emre Erdemoğlu have? Who is he?
Innovative, dynamic, elegance … First of all, you need to be carrying these three in harmony. I address the wardrobe of men who are open to innovation, inspiring with their style, who can complement their soul with the spirit of the product they wear. I love characters who have a story, have the current wardrobe. I can compromise with them more easily.
How do you prepare your collections? What are your inspirers?
Priority is always the target audience for me; I create a link between the characters in the story I create and my target audience. After achieving this balance, I prepare my "Concept Board". Before determining the theme of the season I've prepared, I create my keywords. I do research on their meaning, from their historical dimension to the present. I investigate the effect of my keyword on art, sport, and daily life. I determine the primary and accent color in my story. After I have done enough research about my concept, the identity that is revealed put a smile on my face and excites me; it shows that I am on the right track. That's why all my collections have different communication. They always have things to tell and narrate. It kinda stories like.
How often do you lay place to accessories when creating new designs? What do the accessories mean to you?
One of the most important things that should be in the wardrobe of men with style, is surely the accessories. I can never complete the look of my collection without accessories. I feel incomplete without them. I mean, you can transform an ordinary combination into utterly different combination with a piece of accessories. Think like a puzzle. When you find the missing piece, the picture is complete. When you think of accessories something complementary to the collection and spread it to the whole, there comes out a more idealistic and personal collection.
What should men who live in Turkey pay attention to obtain an exclusive style? It is obvious we need advice.
In fact, this fly in the ointment exists not only in Turkey but also in the whole world. People should be familiar with what their bodies look like. If you know the body proposition and color well, making a choice is much easier. It is not wise to me just to buy and wear something for fashions' sake. You can chalk up points by wearing things that fit your style. Please do let anything you wear integrate with your soul. The trio of "location-space-time" plays an important role here. You should dress up accordingly considering the environment and time you will be in.
How can we apply the designs we see on the podiums into real life?
Merenomy is very important. When you combine different parts with each other, you get a wonderful look. You can integrate an avant-garde piece with such a combination that it softens, disappears in time … It gives a flavor…In fact, it is necessary to give this flavor in the fashion shows. If you set the dose well when styling, you don't scare anybody with your collection pieces but encourage them
Unisex outfits stand out in this collection. Do you do that by preference? How do you interpret the "sexlessness" that started to be popular with the new generation?
I've been thinking a lot about the understanding of opposing the gender roles that dominated the 80s and, in a sense, "bending" these gender roles. Because these ideas, which were innovative and courageous at the time, were no longer an issue for Generation Y of the 2000s.Generation Y now thinks that both sexes can behave as they wish and that there is no single "female" and "male" image. Now people can wear a long sweatshirt, tight leggings or a patterned shirt, regardless of gender. Rivalry against the determination of sexual identity through clothes in the past is now unquestionably justified in the 21st century. It is also possible to capture this concept in my collections.
How do you find the men's fashion, brand and style world in Turkey? what is missing?
I think the clothes of people should be in touch with their souls. It must have a trace of the person's identity. This can sometimes be a color, a texture, or an accessory. You must have the means to clue in your personality. Instead of being someone else's exact replication, I would rather like to see you making your own style the most modern. Your skin color, anatomy, and light are very important in costume selection. I think we shouldn't wear anything that is unmanageable and unsuitable. Unfortunately, Turkish brands could not get rid of Copy-Paste. If you are aware, everyone on the street is very similar to each other. Because all the brands you shop with, are preparing the collections by copying each other. When this is the case, you will not encounter anyone who can inspire you and excite you in the street. There is no spirit of collections prepared within the framework of commercial concerns.
Recently, many global brands and fashion houses have been fed from a common style or a very similar trend pool. Where do you think the global fashion is headed? Is style losing individuality?
Unfortunately, Turkish brands could not get rid of Copy-Paste. If you're aware, everyone on the street looks like. Because all the brands you shop with copying each other in preparing their collection. In this case, you barely encounter anyone who can inspire you and excite you in the street. There is no spirit of collections prepared within the framework of commercial concerns. When creating a collection, you must first fictionalize an identity. Who is your woman/man? What does s/he eat or drink? How does she live? After answering these questions, you can now start preparing the collection.
Does Turkey assist successful fashion designers like you?
EIB (Aegean Exporters Union), which has been with me since my first take off, will be with me in every aspect of my life. They have a major role when I represented my country in such beautiful platforms about my brand. Not only in financial matters, but Eib was also my protector in every field …Also, one of the biggest supporters of Turkish designers is İTKİB (istanbulTextile and Apparel Exporters' Association). In many fashion events, it has accelerated Turkish Designer and plays an important role in the growth and development of our brands. In the years when I first founded my brand, I took part in "Istanbul Fashion Incube" and realized the process of branding by taking consultancy services from a very professional team. I am much more professional now since I have survived the pain with a solid team.
You're a professional who works on male design. Is designing for men different from designing for women?
It is absolutely quite different and more fun I must say. Men easily surrender to the people they believe in. However, women are dressed for others, that is why they are more likely to make mistakes. They can't lean on a certain roadmap in style. She is always variable because there are too many rivals around. When it comes to men, they buy what they really needed. In doing so, he surrenders.
What do you think should be the most indispensable components of a man's closet?
I think the must-have of a wardrobe is: a well-sewed black tuxedo, an always ironed razor-sharp white tuxedo shirt, a leather jacket that suits to body proposition (real leather), washed blue-jeans. They save the day since they are timeless…
The extraordinariness we have seen in the stage people in Europe and the US have been in our stage world for a long time. Is it just a show or the destroyed taboos of the male design world?
The world is changing. Now, the clothes codes have changed. Sexless collections are being prepared. Men are not afraid to carry on colorful, twinkling and feminine details. We live in a more free world. So the taboos are falling …
Who are you dressing as Emre Erdemoğlu? Who are you working with? and How does this process develop in you?
We work with very distinctive names in textures and styles. There are several celebrities to be exemplified like, Kenan Doğulu, Murat Boz, Gökhan Türkmen, Yalın, Emre Altuğ, Emre Aydın, Murat Dalkılıç, Keremcem, Mehmet Erdem, Kaan Urgancıoğlu, Mehmet Günsur, Zeynep Mansur, Simge Sağın, Ayşegül Aldinç, Zuhal Olcay. We come together with all of them for different projects. The most enjoyable part of the job is to appeal to different names in style.
How do you find Turkish men's style and their approach to fashion? What are the maximum and minimum?
I think the clothes people choose to wear should be in touch with their soul. It must have a trace of the person's identity. This can sometimes be a color, a texture, or an accessory. You must have the means that can clue in your personality. Instead of being someone else exact replication, I would rather like to see you making your own style. In costume selection, your skin color, anatomy, light is very important. I think we shouldn't wear anything that is unmanageable and unsuitable.