We set out with the aim of inspiring the collections of world brands with our fabrics and we still conduct our works in parallel to this aim.
After graduating from Saint Michel French High School in 1987, and Istanbul University Faculty of Economics in 1991, Professor Dr. Emre Alkın completed his postgraduate education at Istanbul University in 1993. Then, he became an "associate professor in 1997 and "Professor'' in 2002 by completing his doctorate at the same University in
1996. Prof. Dr. Emre Alkin, who served as the Chairman Advisor of IMKB between 1999-2003, as the Secretary-General of TIM and as the member of a Tax Council in 2000, also worked at Çukurova Holding, Doğan Holding, Anadolu Holding, and Altınbaş Holding. Dr. Emre Alkin, who recently works as an Economics Columnist for various newspapers and as an Economics Commentator for many television channels, gives place to heroes
within us through his page titled ''It would not be if it was not shared'' in the Dünya Newspaper. Alkin, who served as Vice-Rector at Altınbaş University, also served as the member of the Board of Directors of Göztepe Sportif A.Ş. and the General Secretariat of Turkey Football Federation. Between 2017 and 2019, he served as the General Manager
of Galatasaray Sportif A.Ş. as an Independent Board Member. Since while, he has been working in international companies dealing with Payment Systems, Mobile Technologies, Finance, and Financial Issues. Professor Dr. Emre Alkin has eight books, one of which is in English: "Risk Management", ''Evolution of Financial Intermediation ",'' Introduction to Risk
Management in Banks'', ''Gaziantep from Past to Present'', co-authored with Yalın Alpay, "Not Everything is Economics", ''It would not be if was not shared'', "The Art of Fikret Mualla", ''Turkey's Economy with Cases"..In addition, his book Seve Seve Aldattım (Cheated with love), which he wrote about the evolution of human relations from past to present, has been among the bestselling books this year. He also made a great debut with his first
novel "The Woman Seeking The Perfect" published in September 2018. Alkin recently reunited with his latest book '' Exit from Economics''. Professor Dr. Emre Alkin has two children and gives lectures in Turkish, English and French.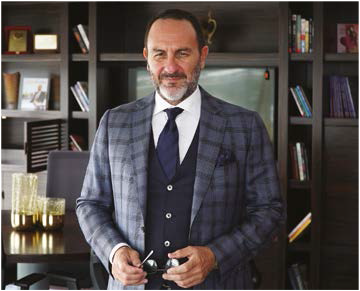 The concept of sustainability is actually a romantic concept. Everything starts with
keeping in touch with nature, constantly observing it and watching the developments closely and protecting it.
closely and protecting it. Therefore, in order to staysustainable, the resource itself must be fixated on theprinciple of sustainability. Sustainability of production is based on sustainable resources. That understanding is what makes you rationally sensitive to the environment. Environmental awareness is essential for ecological works. In addition to using resources economically, it is of great importance to actually use them "efficiently".
We need to abstain from environmental pollution. Most of the deaths in the world, contrary to what is known, are not caused by wars and conflicts, but because of
environmental and air pollutions and related diseases. This is a vital detail. Although sustainability is a romantic concept, it is also a goal that must be achieved in a rational sense. Think of it like a football team that kicks the season with a championship password. Remember that Bursaspor once fell from the league, but then managed to become a champion. Although there are obstacles and negativities on life, the only thing that
matters is to linearly proceed without giving up the principle of sustainability. Like Karl Sagan said, "I don't know where I'm going, but I'm on my way." In other words,
I advise all industrialists and business people, especially our textile companies, to set out based on sustainability
and do their level best.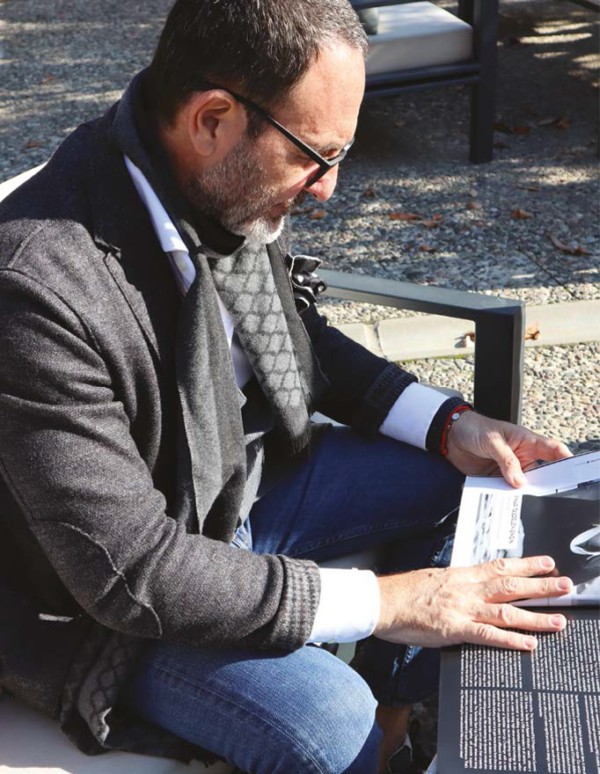 If you were to take the economic picture of Turkey and the world while preparing
to leave behind 2019, what else do you think would be in this frame? Could you please share your evaluations with us? We are experiencing a depressing economic situation all over the world in these days on the eve of 2020 while ending 2019. This situation is interpreted as both negative and positive depending on people. Therefore, No one, in
this case, may assess the economic developments in Turkey regardless of the World. As a country, I believe that we need to gain ground on production. On the contrary, Conversely, we have become a consumer society that leans on credits quite excessively. There is the same situation going on in the world. Recently, the Fed President said in a statement that since large companies easily reached very high amounts in monetary terms, they caught such a leverage ratio that We set out with the aim of inspiring the collections of world brands with our fabrics and we still conduct our works in parallel to this aim. they could no longer be described even with their turnover. In that case, I must
say our country is in a better position than the remainders in the world. The situation that the world currently in is that the giant companies have now entered into a working system in the form of colonization activities. Through these colonial reflexes, giant companies can manipulate their positions by having a say in other countries' affairs. I foresee that colonization activities of companies will increasingly keep up in 2020 too. Bursa is one of the most vital cities in Turkey in terms of production. However, in order
to gain a position in the global economy, we need to be a city and country that successfully appeals to the hearts and minds of the world's citizens and produce
the essential product (s). We need to produce value-added products that will
make the world say, "I can only buy these from nowhere but from Turkey or Bursa".
How do you interpret the performance of Turkish textile Industry as an academician on the one hand and an economist on the other? How do you peruse our performance in terms of production, branding, and export? Textile is currently and indispensably
one of the most crucial sectors in every aspect of our lives. Today, Textile is a sector of multiple-use ranging from the vehicle parts used in the aerospace industry to
spacesuits, from firefighter clothing and apparel to fire hose to agricultural
equipment. Technical textiles, in fact, have a very high kg value. We
just started to discover this quite recently. Frankly speaking, we were a country producing ready-made clothing and garments. Thanks to the development of technology
and needs and the increase in the use of textiles, we have reached to a developer position in this field. Since technical textiles are products with high kg value, it is of great importance to focus more on this field. In order to increase the added value in exports and the export rate per kg, it is vitally necessary to turn the textile into a very special and an in-depth sector. I deeply believe that we will take the lead with the help of the UTIB
President and opinion leaders who have a visionary perspective on this
issue. I believe that these special and in-depth textile products, which I would call "new textiles'', will contribute the maximum benefit to the development of Turkey in the coming periods. I think UTIB, reaching an export level of $ 10 per kg, will further it even higher. To um up, we need to concentrate more and more on the textile that includes biochemistry with high technological properties.
We often hear terms such as innovation, digitalization, artificial intelligence, advanced
technology, and face with advice and warnings on almost each and every platform to invest in this field. What would you say about it, and how do you see it in the context of the textile sector?
I think the textile sector is the easiest and finest place to apply the Industry 4.0. Basically, we need to define what is Industry 4.0? To summarize briefly; gathering all the reactions, thoughts and usage of the consumer related to the goods and services you produce in a pool with the help of artificial intelligence and conveying this information to your company with a digital base, filtering this huge amount of data and ultimately producing and placing the product on the market as the customer demands, last but not least, designing and manufacturing products in accordance with what might be required in the future with this filtered information. This is a tremendous move and the outcome of this move is to obtain high added-value. Therefore, it is a must for us to integrate textiles into industry 4.0. As a country, we need to rush to intensely invest in technological infrastructure in order to adapt the Industry 4.0 to every sector.
There are intense orientation and interest in sustainability and ecological production in the world and in our country. What is your opinion about it?
The concept of sustainability is actually a romantic concept. Everything starts with keeping in touch with nature, constantly observing it and watching the developments