We have been playing a role in the industry for about 33 years to produce fashion for past, present, tomorrow and future generations." Founded in 1985 to produce scarf fabrics, our company has been concentrated on women's clothing as a field and has been exporting apparel fabric to the world right after 1995, which was the years of opportunity for the industry.
Can you please inform us about your company and introduce Elyaf Textile in brief? What would you tell us about your fabrics, designs, and product range?
"We have been playing a role in the industry for about 30 years to produce fashion for past, present, tomorrow and future generations." Founded in 1989 to produce scarf fabrics, our company has been concentrated on women's clothing as a field and has been exporting apparel fabric to the world right after 1998, which was the years of opportunity for the industry. We have a production capacity of 1.200.000 m / month thanks to our investments in twisting, warp, weaving, dyeing, finishing and digital printing, prepared in our production facilities, established on 21.000 m2 closed and 2.000 m2 open area. Our company, which has maintained its capital by maintaining 100% on its own since our establishment, is our greatest value by trying to adopt our family values while paying utmost attention to the ethical values that we believe in business ethics 37 and trade, and transforming them into present form and moving forward. Founded by our fathers starting from apprenticeship and transitioning to industrialism, our company is also our blue boy as a second generation.
Our greatest dynamism is to do the one and the only business we know in the best way possible from the very beginning, to grow with firm steps, to invest in our business and to do it with love. Our product range consists of draped, silky air fabrics since its foundation. Our special designed fabrics where all types of fibers such as Viscose, Tencel, Modal, Cotton, Bamboo, Cupro, Acetate, Polyamide, Polyester, Elastane are used, serves all kinds of purposes such as blouses, jackets, skirts, dresses, and trousers. As Elyaf Textile, the most distinctive eligibility featuring us is to be a leading company that steers fashion through unique designs since the day it was founded. In our exports to 45 countries, we are the fabric supplier of the most prestigious brands mainly Inditex Group (Zara Woman, TRF, Zara Basic, Massimo Dutti) and H&M Group (Arket, Cos, & Other Stories, H&M Domestic Store Departments), and respectively Just Cavalli, MAx&Co., Armani, J.Crew, Michael Kors, Calvin Klein, IKKS, Moschino, Les Benjamins, Marks&Spencer, Elie Tahari, Marc O'Polo, Gerry Weber, Pinko, Maje, Sandro, Tommy Hilfiger, Banana Republic, Ann Taylor, Les Benjamins, All Saints, Reiss.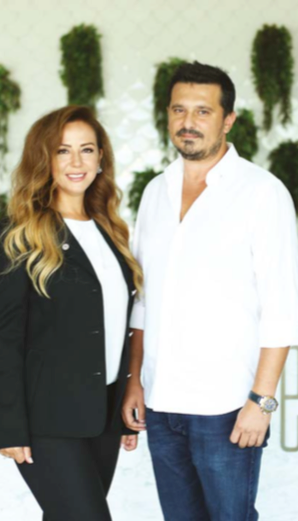 Could you give us information about your R & D activities in the field of sustainability?
We are aware of the importance of R & D and Innovation to maintain our survival in the textile industry where competition is quite intense. For this reason, we have accelerated our R & D activities since 2017 as Elyaf Textile. As of May 2019, we were entitled to receive the R & D Center certificate by the Ministry of Industry and Technology and to become an R&D Center. Since our focus in R & D is to develop fabrics and production techniques that can differentiate women's wear, we aim to share with my networks that we are growing more innovative in our field day by day by consolidating our position in the sector and providing lasting superiority in competition.
There are many activities we have been carrying out and that are up and coming in the field of R & D. While some of these works are product-oriented and commercialized, some of them reveal a new process, a machine, a production line, and an apparatus by presenting solutions specific to the company about production techniques.
Our R & D and Innovation activities developed in cooperation with various universities, private sector organizations, suppliers and customers, are crowned withTÜBİTAK projects, patent, and beneficial model applications. What is more significant is sustainability is at the forefront of all our activities. We strive to ensure that the yarns we use in production are as sustainable as possible and that we closely follow innovations in the sector in this field. In addition, we are careful in selecting all kinds of auxiliary chemicals we use from those that cause the least harm to nature and are constantly working on how to shorten our processes in water and energy.
Sustainability, "The sustainability approach we adopted as Elyaf Textile soar beyond a fashion concept based on a mere consumption." Nowadays, the approach of sustainable production which began as a project and became increasingly important has found significant support especially with the encouragement of the leading brands in the world. This trend, whose main idea is to leave a more livable world to future generations and use our limited resources more consciously, has excited us as Elyaf Textile and has been instrumental in placing an ever-developing production policy in our business and our operations. Our understanding has never been just to sell more, but to bring the best quality fabrics to our customers; while doing so, taking into 39 account the interests of the society, respecting human rights, without harming the nature, eco-sensitive and adhering to our ethical understanding to produce.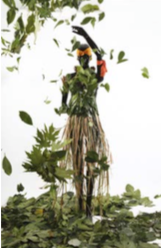 Our understanding of sustainable fashion also covers all aspects of total quality, management, transparency, accountability, supply chain, social ethics and environmental responsibility in our production, regardless of the raw material used. We are inspired by the perspectives of the world's most prestigious fashion brands toward sustainable fashion. Addressing sustainability in such a comprehensive dimension should be an inevitable model for manufacturers like us if they want to be trendy when taking into account the strategies like; a fashion giant's special straw bag collection, which enables women working under difficult conditions in Mumbai to work in bag sewing workshops, or a world-famous jewelry brand's supplied diamonds do not come from areas that finance the violence, and they document the source of the stones and make them traceable. ''Only companies that can think of sustainable fashion in its entirety and succeed in implementing them and turn it into a competitive advantage can survive. "
Thus, we have a sustainability approach that is sensitive about the raw material and the chemistry of our product, water, chemical and energy resources on earth, and the personnel and labor resources, where these components cannot come to life without their expertise. We also care about the world we live in and believe that we contribute to the world through the developments we create in our own field. We are trying to be the part of the development and change to make a difference for both nature and humanity."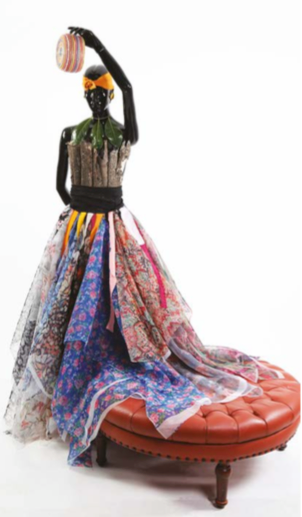 You have blazed the trail in textile through 'Natural dyeing'. Can you share the details of the activities you have actualized so far in this field?
The use of some insects and plants as a source of dyestuff has been quite common in history. However, with the arrival of the industrial revolution in the early 19th century, the discovery of synthetic dyes ended this usage. Our project on this issue emerged right after our sustainability efforts met with R & D.
When we take into consideration our production processes, we have found 40 out that raw material yarns and auxiliary chemicals we use are quite sustainable. However, the dyestuffs we use are more synthetic, although they comply with legal regulations. "We found an answer to the very question of how to further our efforts in sustainability, is actually hidden in the not too distant past of humanity; "Natural dyeing.''
We all definitely believed that this idea will crown our sustainability efforts, be a project worthy of working on and will make a difference in the sector we address to. Especially in the recent periods, the tendency of the world's giant brand groups concentrating on this issue has strengthened our belief in our project.
We decided to conduct sectoral research, firstly examining the works that were carried out regarding this field on a global scale. Then, we identified our supplier partners that we want to work with by means of academicians. After that, we have finalized our dyeing processes by standardizing many variables in the operating environment. We initiated activities by recognizing plants at the laboratory level.
Through standardizing many variables in the operating environment, we have finalized our dyeing processes. When determining our path, we saw that there were ready-made dyes sold as natural dyes in the market, and some companies had activities under the banner of natural dyes via this method.
However, as a result of our analysis, we concluded that some of these colorants actually contained synthetic materials and some of them were subjected to some chemical processes despite the use of plant resources as a colorant. There were also companies directly selling the plant extracts; however, these products were far from being commercial in terms of price and increased dependency on imports.
However, the country we live on is one of the richest regions in the world where many plants naturally grow and insects live in terms of dyestuffs due to its geographical location. ''In our works, we have justified the pride of protecting our own cultural heritage and national values by preferring natural dyestuff sources in our country.'' According to other research that we have conducted, we basically did not need any auxiliary chemicals that we use in conventional dyeing system for natural dyeing applications too.
We do not use any additional chemicals other than a few mordant materials that have been known for centuries, allowing the color to pass and stabilize on the fabric. Our work in the field of natural dyestuff is becoming unpredictably eco-friendly and useful considering the harm of some synthetic dyestuff to employee's health, the poison that penetrates our body as the ultimate consumer, the environmental damage, and the damages to underground and surface waters.
Can you also generally exemplify this in the world as well? What makes you different from the current studies?
We have already seen that natural dyestuff can be seen and found in either university researches, an industrial scale by ensuring sustainability. Our production technique is unique; because in industrial sense, in addition to the simultaneous extraction and dyeing of the jet dyeing machine, we use the plant itself directly in dyeing and we do not apply it to protein-based fibers such as silk, wool, where natural dyeing is most appropriate, but to cellulosic fabrics, which are our specialty.
We also have our plants analyzed to ensure the reproducibility of the colors we obtain. We put them into use according to the active substance they possess. In terms of the product group and the method in which it is applied, this adds a unique application to our project.
Where does HERITAGE, the name of your Natural Colorant Collection come from?
"Inspiration coming from nature and the past: HERITAGE by Elyaf." In fact, up until two centuries ago, human history was unaware of synthetic dyestuff. One of the main reasons why we called our collection HERITAGE is that we see natural dyestuff method as an inheritance descended from our ancestors. We have blended this heritage with current technology and ensured its industrial continuity.
In addition, most of the natural dyestuff sources that we use consist of the recycling of plant wastes and materials collected from the nature. In other words, plants are coming to life again in our fabrics and we, in a way, evaluate the legacy left by nature. We thought the name HERITAGE would fit our collection, and we decided to come up with that name.
What is the most difficult thing to do in natural dyeing when actualizing your job?
The biggest challenge in this business is to ensure continuity on an industrial scale. Since we apply the dyeing by extracting the plant and plant wastes collected directly from nature, it is thereby, necessary to consider some variables and eliminate these differences as much as possible to obtain the same color to show continuity.
For example, the time to collect the plants, the place they grow, and the degree of solar uptake affect the color yield. In order to ensure the reproducibility of the colors we obtain, we have the plants to be analyzed and put into use according to the active substances they have.
In addition, we make plants powdered so that the particle size is within a certain range in order to achieve better color yield and continuity from the plants. In addition, prescription optimizations, mismatches between laboratory and production are other variables that we encounter and standardize, as in conventional dyeing systems. What is more compelling is that not only one may have to ensure that the color is sustained but also has to ensure that fastness values are within acceptable standards.
Can you really prove that the naturally-dyestuff products you sell as natural as you claim?
With the knowledge we obtained from our sustainability efforts when setting off the work, we were aware that the natural dyed fabric we offered should be accompanied by documents that can prove that they are suitable and naturally-dyed. For this purpose, we have received a natural dye certificate from a 41 laboratory where we can prove that we use 100% natural dyestuff in our fabrics.
This laboratory is also an internationally accredited well- equipped laboratory that analyzes whether natural dyes are used in fabrics found in archaeological excavations or in museums, and if so, what kind of plants colors are obtained.