Turkish fashion is changing as we are changing
Of course big fashion weeks is a must but isn't it exciting to see new faces and new details. That's why I think even this became a cliche but we are a good bridge between east and west. We already have very talented great designers from Turkey, but also our fashion week is an alternative option that makes our hearts beat. I am so excited in every step of being a part my country's official fashion week. It is not important 1 person or 5 million is watching my runways, If our paths merge with the right ones, this is the biggest gain for me. I'm looking forward to enjoy my trip here and see what I will do in world fashion…
First of all, could you tell us about yourself and your work in general?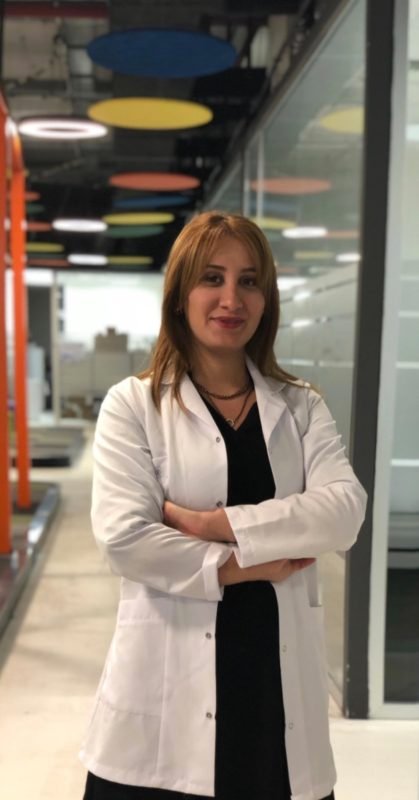 Hello. I'm Duygu Yilmaz; co-founder of Biolive, a food engineer and an academician. About 6 years ago, after my father swallowed olive seeds at breakfast, I shared my idea of researching the content of olive seed with my partners Ahmet Fatih Ayaş and Mehmet Emin Öz. First, we carried out our work in the laboratory that we established in the student house.
After 1.5 years of work at home, we received our first investment from Vestel Ventures and established Biolive in 2017. While my partners were advancing the outcome of our invention, I focused on the investment process. Thus, we have successfully completed a new polymer invention obtained from olive seeds. The biopolymers we produce are compounded with plastic types which are suitable for injection method.
Our products can be used in many different sectors such as electronics, food packaging, textile, medical, automotive, and furniture as a result of the R&D studies we have developed specifically for each of our customers. Until today, our R&D studies and trials have been carried out with many different material types in the plastics industry. Our invention is under the protection of PCT Patent and has the 1st prize in the international arena. While advancing our technology, we are working not only on olive seed, but also on many different plant based wastes that have lost their food quality.
We started to work on sustainable hangers, labels and buttons with Rebil Group, our solution partner for sustainable needs in textile industry. As a result of joint efforts during the pandemic, we made the invention of plant based leather using olive industry wastes and other plant based wastes.
With these inventions, our company has become a company that produces bio-based plastic raw materials and plant based leather from olive seeds, which is a first in the world. In approximately 5 years, we have become one of Turkey's and the world's most successful startups. In addition to Tübitak, we are conducting technological and scientific academic studies with various universities and organizations and making these technologies industrial.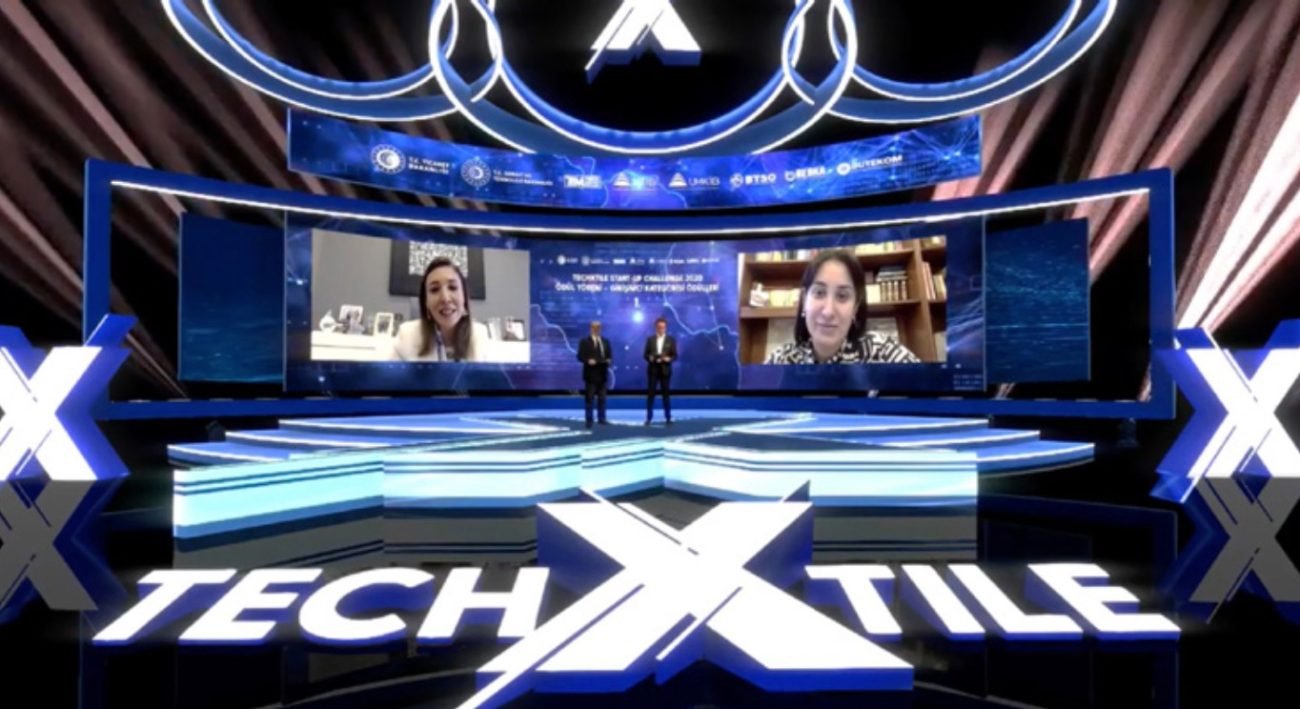 How did you hear about UTİB's Techxtile Start-Up Challenge? Afterwards, how did you prepare for the competition, can you explain that process?
We heard about and applied to the program when our textile partner Rebil Group's team saw the event applications online. We received the entrepreneurship training from our advisor Ufuk Batum, which was very informative for us in the process until the finals. In this process, we completed our tests in the field of textiles, R&D processes and production of sample products. We had the chance to meet with many different textile customers by using the products that we produced visually in our presentations. We presented to jury members with years of experience from textile and other various sectors. Since the program is only aims entrepreneurs in the textile field, we have gained a lot of new knowledge in this field. It was very informative and supportive in every sense for us.
Could you tell us about your project which is the first in Techxtile? What would you like to say about your team that succeeded the project and your culture of working together?
We achieved the 1st place with our sustainable textile products and plant based leather production project from olive seed and other plant based wastes. All of our work and products support Sustainable Development Goals. The two industries where plastics produced in the world are mostly used are the Packaging and Textile.
Considering the fact that the products belonging to both sectors are the product groups with the shortest duration of use, we face an ugly picture: With 100 billion pieces of garments produced every year, approximately 450 billion pieces of clothing, tags, hangers and accessories go to waste in a very short time. We produce materials completely aimed at protecting human health, nature and other living things. Our plant based leather invention has actually emerged as a solution to the damages caused by animal leather and artificial leather production.
Although the product life is longer than labels and accessories, two main types of materials with the highest environmental impact in the textile field are real and artificial leather. In order create an image with a simple example; with every 1 kg of only 25% biobased product preferred instead of pure plastics, you can prevent an environmental effect equivalent to driving a vehicle for 45 km or by keeping a light bulb on for 110 days. Our invention of plant based leather has emerged as a solution for the damages caused by animal leather production and artificial leather production. We worked as 2 partner companies in the field of textile. During this period, intensive R&D studies were carried out and they still continue. The most important factor that makes us successful is the multi-disciplinary realization of our R&D studies and the harmony between the teams. Testing and certification processes of all our products according to national and international standards continue successfully.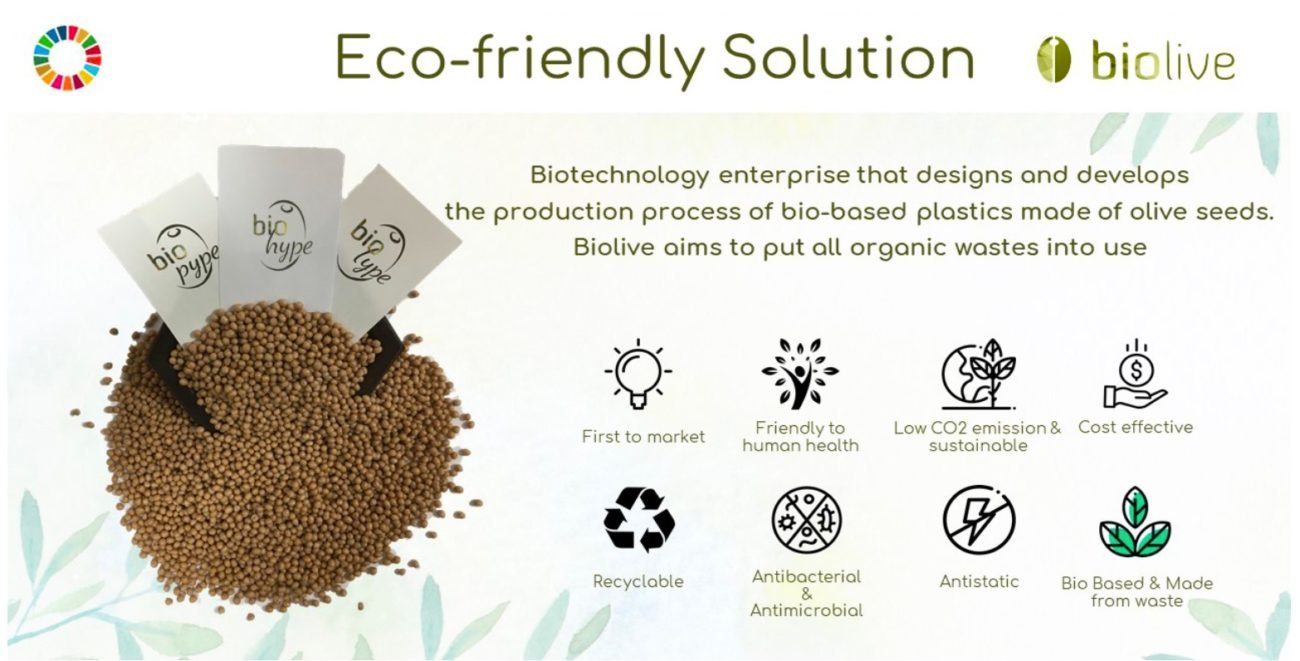 What do you think about sustainability? For a more livable world in the future, there is more need for such projects. What are your thoughts on other works in the sector?
Our priority is always sustainability in all of our products and scientific studies. We represented our country in Geneva last year within the scope of the 2030 Goals announced by the United Nations at the Paris Peace Conference in 2015. After the trainings we received there, our priority became sustainability in each process within our structure. Undoubtedly, the pandemic has made the society much more aware of climate change and biodiversity. We have different projects on antimicrobial plastic surfaces and the development of useful products from many different wastes.
Environmental effects of our products:
– We prevent 6 kg of carbon emission with every 1 kg of Biolive bioplastic raw material,
– Our raw material is recyclable and the number of recyclable raw materials in bioplastics is very low.
– We are creating a new suitable product from biowaste.
– Another area of use of olive seed is to use it as fuel, which causes 12 times more carbon monoxide formation than coal.
– 100% of our product is a raw material that is friendly to human health, even edible.
– As it is an antistatic product, it reduces dust holding capacity on surfaces.
– Due to its low density, it enables more products to be produced and also makes the final product lighter.
– It has a carbon footprint reducing effect.
– It has effects within the scope of zero waste.
Finally, can we get your expectations from 2021 and your recommendations to women entrepreneurs?
We will continue to work with all our energy for a sustainable world. I wish 2021 to bring high awareness and be a healthy and a happy year for the whole world. It is a journey to live and I wish everyone writes their own story happily on this journey. Entrepreneurship is a difficult and beautiful road.
Whenever I have difficulty in my own journey, I increase my motivation as I remember that our work directly touches people and nature. I know very well the difficulties of being a woman entrepreneur. I advise them not to feel lonely and not to think on those who believe in them and those who do not believe in them every day. Instead, they should think and feel the power within themselves and not stop dreaming. Never give up on subjects that you are not sufficient and spending time for trainings and people that will improve them.