UTIB's goal is to support Turkish innovation and creativity in international platforms.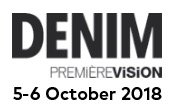 To accomplish this, UTIB organized a special booth to promote key players who shifted Turkish denim industry to its leading position.
Uludag Textile Exporters' Association (UTIB) will organize national participation to Denim Premiere Vision Fair which will be in Londra- The Old Truman Brewery.
Denim Premiere Vision brings at a common platform manufacturers, weavers, accessory makers, fiber producers, garments and finishing firms and laundries allowing them to display products like indigo and vegetable dyes, jute, silk and linen fibers, handspun denim, organic denim, denim sportswear, selvage denim, as well as denim accessories.
National Participants:
AKKUS TEKSTIL SAN.TIC A.S
DNM TEXTILE /DIYENEM TEKSTIL SANAYI VE TIC. A.S.
A14 DENIM / AKOZBEKLER TEKSTIL
BAYKANLAR TEKSTIL SAN VE TIC A.S
BOSSA DENIM
CALIK DENIM TEKSTIL SAN. VE TIC. A.S.
DENIMCO TEKSTIL PAZARLAMA
DERIDESEN ETIKET
DIZAYN ETIKET
ERA GARMENT
KILIM GRUBU KARTALTEPE MENSUCAT FAB TAS
KIPAS PAZARLAMA A.S
MARITAS DENIM SAN. TIC. A.S
MBLUE / MERKOTEKS TEKSTIL SAN VE TIC. AS
ODAK TEKSTIL PAZARLAMA SAN. VE TIC. LTD. STI.
POLSAN BUTTON
TUNTEKS KONFEKSIYON VE DOKUMA SAN. TIC. A.S.
TÜSA DENIM SANAYI VE TICARET A.S.
W DENIM / DENIMCI DIS TIC. PAZARLAMA AS