We closed the year, 2019 with $ 17.7 billion, which was below our expectations. Our target was around $ 18.5 billion.
Being a member of the Board of Directors of İstanbul Apparel Exporters Association (İHKİB), how do you think was the last year considering apparel and garment sector-based?
We closed the year, 2019 with $ 17.7 billion, which was below our expectations. Our target was around $ 18.5 billion. Unfortunately, our sector has been affected by the economic and geopolitical turmoils that have developed in the world and in our close environment. The European Union is our biggest market, and the stagnation here has been the biggest reason for our inability to reach our export target. Especially the recession in the German markets and the uncertainty in Britain brought by Brexit were the most important factors. We experienced a decrease in these two markets. On the contrary, there was an increase in the markets of Spain and the Netherlands. As the relations improved more and more with Russia, there was an upward mobility..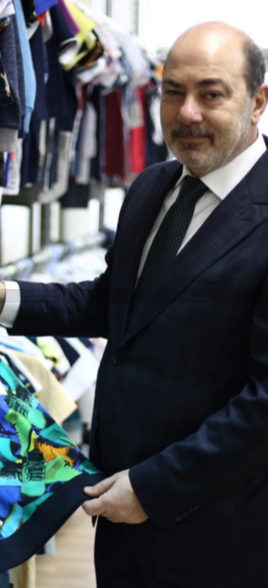 The market we value most currently is the USA. Due to the US-China trade war, the USA's quest for new production bases and its rapprochement to Turkey has caused an increase in our exports. Unfortunately, it fell short of expectations. For this reason, we have established a special committee as IHKIB, and this committee by the presentation and perception studies over the next service mission in the USA, Turkey will try to explain the apparel industry. This committee is going to explain the Turkish apparel industry during its service mission in the USA by making presentations and perception studies.
As IHKIB, we collaborated with the USFIA (the United States Fashion Industry Association) and created a joint working platform. USFIA is an organization in which America's largest purchasing groups are members. Firstly, we made a presentation introducing the Turkey's ready-made clothing industry at a conference they held at the end of 2019. In addition, we attended the board meetings and talked about how we can collaborate. Within this framework, we aim to increase our exports to the USA to 1 billion dollars in the next 3 years and to 2 billion dollars in the longer term.
Apart from that, we planned to apply the same kind of plans in countries such as European Union countries, China and Japan.
In fact, despite the increase in terms of units in 2019, there was no increase in the same rate in monetary terms. This shows that we have reduced our prices. We need to increase our value-added and design product sales as soon as possible. Of course, it is the most important factor in creating this added value in our organized retail brands. Our stores abroad are expanding day by day. They play a very important role in the increase in exports.
For the first issue of 2020, Can we get your goals and forecasts for this year?
Our target for 2020 is $ 19 million. Of course, our ready-to-wear exports automatically increase in an environment where everything goes right, Brexit uncertainty disappears, the economy in Europe improves, and our relations with neighboring countries and world giants completely improve. Of course, human resources are also very important. In an unemployment environment based on 15%, we cannot find qualified workers to work in our sector.
In an environment where unemployment is accounted for at 15%, we cannot find qualified workers to employ in our sector. And as IHKIB, we are working to increase employment in this regard. In order to increase our exports, we need to increase the number of qualified personnel. In addition, we have been experiencing changes in our industry for several years. With these changes, we have to keep up with digital transformation in line with the demands of our customers. Many of our manufacturers easily adopted this change. Apart from this, environmental protection, waste management, and circular economy issues have come to the fore all over the world. Our customers want us to make our factories now suitable for green production. They want products that organic and regenerated materials are used. The faster we implement these kinds of developments, the more we can grow share in the market, which helps increase our exports. In particular, the form of subcontracting began to gradually disappear. Transparency is very important. Customers now want to know where products are produced under what conditions. Therefore, 27 we need to speed up integration. The sooner we deliver some kind of improvements, the faster we get the feedback. This will, in turn, helps us increase our exports..
It is a fact that we are strong in the fields of textile, ready-wear clothing, infrastructure, and manufacturing. However, the question is can we adequately support these achievements with design and sustainability? Can you inform us about the current situation and ongoing studies in this regard?
Sustainability is now the most important issue in the world. It is valid for everything. Sustaining a business means implementing factors such as eco and human sensitivity, respect for employee rights and consumers, openness to new technologies and transparency in the business and production process. These are indispensable in the future world. After empowering these changes with design power, you have now created a permanent garment base. You may not be equal with your competitors in terms of price advantage, but when you do value-added business, you will be a country without competitors. Turkey is already implementing it currently. Our customers do not come to Turkey to get things at the cheapest price. They choose us because they know that our infrastructure power, know- how, design capability, and quick manufacturing skills and see this as an advantage. Many of our export companies are investing in design. They are establishing their own design departments. Our government has very good incentives in this regard. Training of designers and technical staff plays 28 in design play an important role. Therefore, as IHKIB, we provide full support to the designers. We are working to increase the number of our designers. Apart from public and private design schools, we established the Istanbul Fashion Academy affiliated to IHKIB. At this school, we apply certificate programs and train designers of all ages in the industry. Besides, we are organizing Young fashion designers competition, which we call Koza, which will develop the designer profession. Finalists from this contest that we have held for 29 years have been famous designers known in Turkey and the world.
We organize the Istanbul Fashion Week twice a year in order to introduce the world that Turkey is a design country and to develop this perception. Just within this week, we invite many buyers, press and magazine editors, bloggers, and influencers from abroad. In this way, we show that Turkey is not only producing garments, but it is also a country that makes and sells its own design.
Evaluating from the circular economy perspective, would you like to say in terms of evaluating our global export position and potential??
The circular economy is the newest and most important topic in the world. As you know, the ready-made clothing industry ranks second among the sectors that cause the most damage to the environment after the oil industry in the world and use the world's natural resources the most. The ready- made clothing industry is one of the most water-consuming industries in the world. Fibers such as polyester, nylon, acrylic, which we call man-made, are increasing day by day, apart from our natural fibers (cotton, wool, cellulosic fibers, linen). The reason for this is that it is cheaper than natural fibers. In the last 20 years, the trend that we call fast fashion has significantly increased, and brands have started to use these cheap fibers more and more in order to produce cheaper.
Millions of unnecessary products started to be produced. The leftovers began to destroy the world a lot. The ultimate consumer, who is aware of this, now thinks that it is time to stop the wasteful approach, and they are pushing brands to be environmentally conscious. In the face of this situation, the brands demand from the manufacturers to be more sensitive to such issues in order to meet the demands of their customers. As the Turkish apparel industry, we need to be more sensitive in the face of such changes.
Turkey is already ahead of many Asian manufacturers with its laws and practices in waste management for years. However, it is not enough. As manufacturers of the whole country, we need to plan waste management very well and efficiently. From the water we use during production to fabric wastage, from paper materials to plastic waste, everything should be picked up carefully and we have to develop company policies in this regard.
These waste materials should then be planned in a way that can be utilized again in other ways.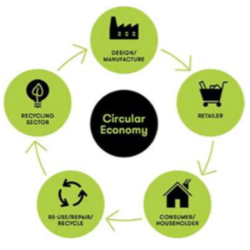 Major pioneering world brands have already made 10-20 years of plans on the circular economy. Many brands have announced that most of their purchases will be products made of regenerated yarns. Many products consisting of recycled man-made products and cotton, continues to be produced right now, and as the demands increase day by day, investments are increasing in these areas. In addition, fabrics from recycling pet bottles are used in many products.
There is also a very high increase in products made from organic cotton. As you know, textile exporters' associations have attempts to make organic cotton a strategic product, which is a very important issue. Currently, there is a huge demand in the world, but unfortunately, only 1% of world cotton production is organic cotton. Turkey is the world leader in this regard. Unfortunately, there is no production to satisfy this demand.
Can you share your thoughts on branding, the effect of design on export and the fashion of the future?
Branding is the sine qua non of the field. The brand value of a product makes it more valuable. Branding is not an easy process as it is said. It will take very long years, and very high financial investments might be required. Additionally, state policies are collaterally important in branding. When branding, the right name, right image, correct positioning, and sustainability are extremely important and that the new brand creates new demand. The fact that the brand offers something new is a factor that will accelerate the development of that brand. Certainly, all of these are accomplished with good corporate governance and investment focused on design. Brands should stand out with their own niche designs, not imitation. Therefore, designer brand collaboration is very important.
As I mentioned before, the export of branded products is very important for us. It is very important for our brand-owned companies and retail brands to collaborate with designers to increase their exports. We see many examples in the world. Large store chains cooperate with world-renowned designers to create special collections from time to time, and thanks to their sale, they increase both their income and their image. As IHKIB, we produce projects that bring 29 designers and brands together in this regard.
I am neither a fashion designer nor an expert in fashion, but as a manufacturer, I can share my views on the fashion of the future. The world is in a great change. This is also valid for fashion. Nowadays, people are chasing comfort and freedom. They don't want to dress formally. They want to go to work or school with bluejeans, T-shirts, and sneakers. Everyone wants to dress according to their own character. They make their own fashion choice not because everyone's wearing it but because they want it. That is why, the sales in high quantities have gradually started to decrease, and individual productions have started to increase. Some brands began to emerge in the concept of ''make your own design.'' Since things like this got easier after entering the digital world, many began to work on this. In addition, products made in recycled fabrics will mark the future. There will be a lot of demand for clothes consisting of organic and natural fabrics.
Stores where used products, which we call vintage are sold and online sales sites have become popular. Currently, people can access everything online by entering online sales sites. Due to online advantages, brands can announce their names to more audiences in an action flick. So, the consumers can easily find anything they want.