Can you briefly introduce Billur Saatçi, who has hundreds of thousands of followers, including many celebrities, mainly the fashion-lovers?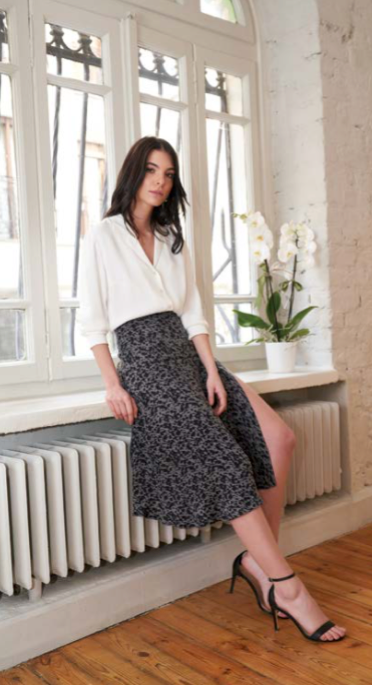 I was born in 1981. I graduated from Notre Dame de Sion French High School and Galatasaray University International Relations. After graduation, I worked in public relations and marketing for 5 years. My blog adventure started 10 years ago, in 2009, when a friend in the company said, "Billur, I'm tired of asking where you get your clothes every day, please open a blog and share it!". I bought myself a camera online, and without knowing what to write, I went across the mirror and took my first picture. Because I had a full-time, multi-tasking job, I was taking pictures with my colleagues on a break remaining from the lunch. I remember I was preparing a post on my way to work. The blog began to flourish bit by bit with the quick entry of Facebook in our lives. In 2010, my blog was placed at the Blog Awards. I've always tried 103 to keep updated the blog up to date until my resignation at the end of 2011. I couldn't participate in the launches, invitations because of my intense work, but I did stick In the meantime, I thought I could take the next step by transforming it into a more comprehensive and full-time job, and I started to work full time as of January 2012. with my heart and soul to something I caressively do and I never left it since then.
As a fashion blogger, you are one of the first names in our country. How did your interest in fashion begin?
I've actually started by positioning myself as a fashion blogger and not as a style blogger. Although I watched fashion weeks closely and shared it on the blog and social media, I tried to share my own style and inspire people. My interest in fashion was because I loved dressing and shopping so much, but I was interested in exploring rare, original and different pieces, rather than shopping. Discovering boutiques that nobody knows much about, meeting new designers was my favorite thing to do. However, it was much more fun to share them with everyone and be a source of inspiration.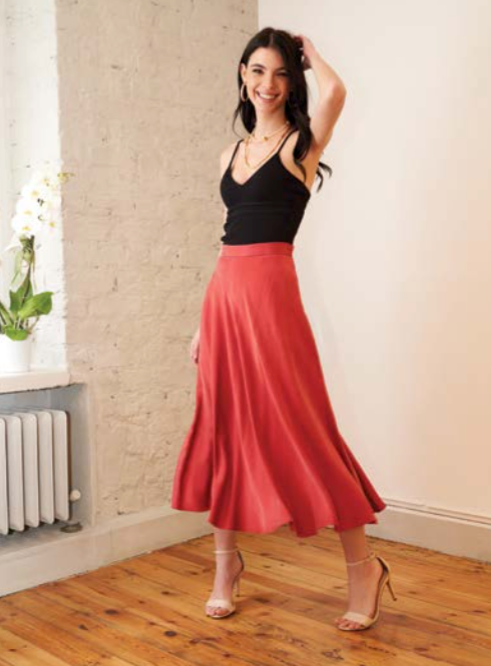 As a blogger, you have a style of your own. Then, in 2009, you started to share your own style and become a blog named offnegiysem.com. How did you manage that? How did you manage that? can you tell us about this process and your style?
Since I answered this question in detail, I don't believe that it is really necessary to answer a similar question like that again and again.
My answer to that question would be no different than the answer mentioned above.
What do you think about Turkish fabrics?
Turkish fabrics offer an endless source of quality and variety. It is absolutely thrilling to know that there are many suppliers offering certified and high-quality fabrics ranging from Tencel denim to vegan fabric.
Our new issue is a bit densely denim-based. Currently, a Denim Premiere Vision will be launched in Milan. Would you like to share your views on Denim fashion and new trends in Denim?
Denim is an indispensable part of everyone's life and Turkish brands are creating wonders with denim. I had the chance to join the Kingpins show in Amsterdam a year ago. It was amazing to see Çalık Denim's innovative works.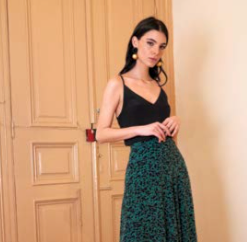 Again, just a few years back, I had the chance to see the works of the young designers who are doing wonders in denim with the Isko I-skool competition, which is an international design competition. Denim is a type of fabric where does not go out of fashion and luxury brands give place every season. The fact that it's so timeless, and that it is used in many parts beyond Jean pants, makes it attractive.
What do you think about sustainable fashion? In the textile sector, there are many companies/brands launch out works for protecting both human health and nature. What are your comments and efforts on this subject?
Textile, unfortunately, is one of the sectors that pollute our world. It is gratifying that many big brands have been working to promote sustainable fashion for this awareness, but there is a long road ahead of us. No matter how small step we had taken in starting our business, Although we started with a small step, we set off dreaming of establishing a brand that supports sustainable fashion from the very beginning. Therefore, we have always preferred to use natural environment-friendly vegan fabrics and to stay away from the synthetic. We pay attention that our boxes are made of recycled materials. We don't use plastic. In our designs, we prefer certified and easily soluble fabrics in nature. We share lots of information on our web pages and try to raise awareness about what the content of our clothing is.
How did you decide to set up Muun?
This process actually started 7 years ago by preparing a collection of 12 pieces for an online shopping website. Although it went very well, I did not continue as my priorities were the travels and blog posts I had for work almost every week. Years later, When my dear friend, dear Dinemis, the owner of this online shopping site said ''Come on Billur'', I wanted to upgrade my work to a more concrete step and stick to this job with my soul.
How does Muun appeal to women? What do you think are essential in the design process?
I can say that MUUN appeals to women who love innovations, follows trends, but prioritizes timeless and high-quality items in their wardrobe. Our indispensables in the design process, in fact, our fabrics. In terms of both research and planting, designing with natural fabrics is much more difficult than using synthetic fabrics. But we learned a lot in this process and we continue to learn. Another important issue is the mold. We work very hard until we get the right pattern. We try to develop ourselves and our workshops about this new day. We try to develop ourselves as well as our workshops about this issue for almost every new day.
Do you get inspired by your own style in the formation of Muun designs?
Actually, my style is exactly my vantage point. I never have had a designer identity. I have been sharing my own sense of taste and style on the blog for about 10 years and now I am sharing it through Muun. A part of me is always plain but differentiated in details, while I prefer the original designs, yet a part of me is actually a pattern and color freak. A part of me goes for loose fits, putting comfort forefront, while a side of me is more elegant and longing in for the olden days. In Muun, there's a little bit of all of them.
The fabrics used for Muun are also of great importance.
What do you think does influence your selection of fabrics here?
The most important issue in our designs is definitely our fabrics. And our fabric understanding is bidirectional. On one hand, we think of our own health in the clothes we wear, while on the other, we aim to establish an environmentally friendly brand. We are totally aware that textile is the 3rd most polluting sector in the world. For this reason, we look at all stages of our fabric choices, from raw materials to production, and try to make the most sensitive selection. The most used fabrics are composed of Tencel, which is derived from renewable wood resources and supports sustainable fashion, Cupro, a vegan certified fabric produced by recycling of cotton residues, Viscose, a non-synthetic and natural source fabric.
What are your dreams regarding Muun's future?
We maintained a rapid acceleration than we expected in Muun, and of course, this acceleration is in line with our dreams which are growing day to day. Our biggest goal is to enlarge our team, to improve our product quality and to expand overseas.
How to access to Muun? Are we able to visit the showroom?
As a brand that we aim to grow online, you can always reach Muun via muun.com.tr.
Our showroom is currently only possible by appointment but can be visited at any time by September. We would like to meet with everyone we reached online up to these days.