Ekoten Textile Industry Trade Inc. has started its textile journey from 1995 to the present day, in Torbalı headquarters building.
What would you like to say about the founding story of Ekoten, which is one of our companies participating in Premiere Vision Sport and its current position?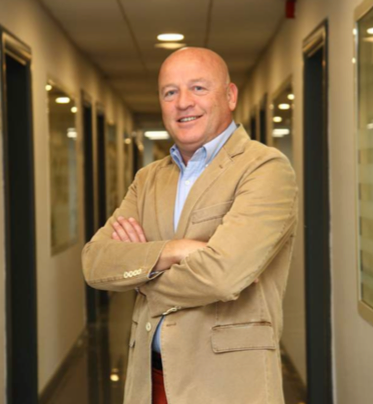 Ekoten Textile Industry Trade Inc. has started its textile journey from 1995 to the present day, in Torbalı headquarters building. Ekoten Textile joined SUN Group structure in 2000.The company continues its productions in harmony with the developing technology and in sensitivity to nature and environment without comproising customer- oriented, fast and quality service principle. With more than 600 employees; EKOTEN Textiles is Turkey's and Europe's largest and most prestigious knitted fabric manufacturer and a leading company in its field with the use of the latest technology and research and development activities.
As a result of the research of the second 500 31 largest industrial establishments of Istanbul Chamber of Industry, which constitute the most valuable data of the industrial sector; Ekoten Textile has ranked 104th by passing the 89 ranks of the 2017 results.
In 2017, we joined the sportswear market. We participate in all of the important fairs of the sector. With such fairs, we come together with key customer groups in the market, and thanks to our innovative fabric developments, we are getting a lot of attention from the participants. In the coming years, we will be participating 10 more important fairs abroad and we will meet our customers. That way, we can keep the pulse of the market closely.
You manufacture fabrics in many different areas. Could you tell us about your activities and production especially on sportswear?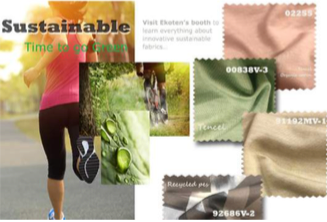 As you know, our group has a strong R & D center. In addition, we also have a technical team organized for sports wear. Thanks to the intensive work of these teams, we closely monitor the market needs and offer innovative products to the market. We manage our sportswear activities in 4 different product groups:
Yoga: For this segment; We offer ultra fine jersey, fineinterlocks-highstrech qualities on the market.Thanks to our production track which we have, We produce high- tech fabrics such as cupro and tencel and provide our customers with the comfort feature that is essential to yoga.
Performance: For this segment, we closely follow up the finishing process works which requires special section yarn and high technology and direct our projects within these innovations. We prepare capsule collections for sports activities such as jogging, exercise and mountain hiking that require performance.
Outdoor: We are creating alternatives for outdoor group by combining our high abrasion-proof fabrics with comfort parameters. Admittedly, the corduraknit collection group that we offered to the market attracted a great deal of attention. We will present such and many other innovative products to the appreciation of the sector in the fairs we will attend.
Sustainable: Sustainability has always been one of the key projects for Ekoten. For Sportswear, we aimed to provide our customers with a sustainable range of products. Our main development titles are Recycled pes (Pre-Post consumer), tencel, organic cotton, refibra, ecovero, seacell. By this means, we bring together our operation experience, that can be tracked and automatically controlled and eco-sensitive with the end user.
What kind of a team do you work with in terms of design? What are the determining and guiding factors in your fabric designs?
We have a special sportswear team that we established in order to follow all the innovative developments of the market closely. Our Team; conducts special yarn researches and examines one-to-one customer requests along with conducting field visits in order to keep up with sport fashion and develop continuously.
Season trends are kept up to date on written and visual platforms. Participation in related fabric fairs is ensured. In this way, new yarn developments and process improvements are shared with the dedicated development team and are adapted to our production line. One of the biggest advantages of our company can be interpreted as always leading the sector and following the market beforehand and giving directing it.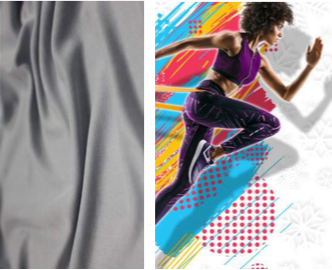 In particular, it is an area open to technology and innovation, such as sportswear and technical textiles. Could you tell us about your R & D and innovation studies on this subject?
Issues like R & D and innovation are very important for us. We are constantly making improvements by conducting systematic meetings with our yarn suppliers and chemical suppliers and machinery suppliers. For sustainable innovation, we develop new value-added products by sharing information with our partner companies. We are working on more than 100 new development projects per month. When combining these development projects with customer requirements, we proudly crown our R & D efforts with our commercial success.
To exemplify; Cordura knitting collection is the product of our latest R & D studies. The qualities that you generally see as weaving in the market have been transformed into a new product group in the field of knitting, the sine qua non of sportswear; We have provided ultralux durability and comfort to the end user by beringing in high elasticity feature beasided hisgh strenght.
Ekoten Textile supports and encourages innovation efforts in order to trasnform all its values into concerete business results by fulfilling the requirements of being an innovative company. We have created an Idea Pool open to all intra- company stakeholders as well as external stakeholders with the aim of capturing new product, process and business model ideas and turning them into innovation projects. In addition to this constantly accessible pool of ideas, there are also calls for periodic thematic innovation projects. The participation to Innovation Focused Mentoring Program inosuit, conducted by the Turkey Exporters Assembly in 2017 has been shown and the program has been successfully completed and efforts were made to establish a corporate innovation system.
Ekoten Textile, attaching great importance to continuously improving its ability to respond quickly to customer expectations in order to make successful business results sustainable. Ekoten Textile has been successfully carrying out the Ekoten Textile Design Project, supported by the Ministry of Trade since 2016.
Ekoten Textile is also one of the partners of P&D Project, which was initiated with the participation of 12 companies under the coordination of Aegean Exporters Unions in 2019 in order to improve international competitiveness and aims to increase export potential in technical textile sector.
If I need to mention a few awards ewarded to our R & D Center; According to the R & D Centers index report published by the Ministry of Science, Industry and Technology in 2017; we were chosen Turkey's the 2nd best R & D Center in the field of textiles.
Additionally, we have also ranked 25th R & D center among all R 33 & D Centers. We were selected as the Most Innovative Textile Company at the 10th International R & D Project Market Summit organized by Uludağ Exporters Union in 2018.
Apart form these, we take part for the fifth time in the innovaLİG, Turkey's first innovation development program, which was organized by the Turkey Exporters Assembly. We have ranked 4th in the Innovalig twice so far and were awarded Turkey's runner-up prize in "The Life Cycle of Innovation" category, in 2017. This year, we are again in the finals, where nearly 1200 companies are competing in the organization.
Our R & D Center has 9 patents and utility models and 2 patent applications. We are planning to apply for 10 more patents in 2020. Our aim is to have a well-known R & D Center not only in Turkey but also worldwide.