When founding the Lucida brand, my goal was to produce handmade designer jewelry at affordable prices.
When describing Lucida, you define it as "modern, timeless, slightly wild jewelry with traditional jewelry-making techniques". Can you elaborate on this a little bit for us? What would you like to say about Lucida's adventure of design and creativity in this context?
When founding the Lucida brand, my goal was to produce handmade designer jewelry at affordable prices. For this purpose, I learned traditional jewelry- making techniques from its masters. With these techniques, I create modern, minimal, everyday jewelry that appeals to all ages.
What would you expect from someone carrying Lucida's jewelry on her body?
I use natural, precious and semi-precious stones in most of the jewelry. I want them to feel the healing effects of these stones. Also, I would like them to feel special because they carry a unique piece, which is hand-made and away from mass production.
Is there a philosophy, symbolism or a story you are inspired by when designing jewelry? With what feelings and thoughts do you design and develop products?
I am impressed by nature when designing jewelry. Forms, colors and constant change circulate in nature inspire me the most.
Can you give us information about your collections? What kinds of jewelry and accessories are used in your collections?
There are mainly necklaces and rings in my collection. like to create simple, minimal jewelry that can adapt to different clothing styles, which can be used both day and night.
Which materials do you usually prefer to use in your jewelry and ornaments? Is there a specific reason for the ore or material you prefer to use?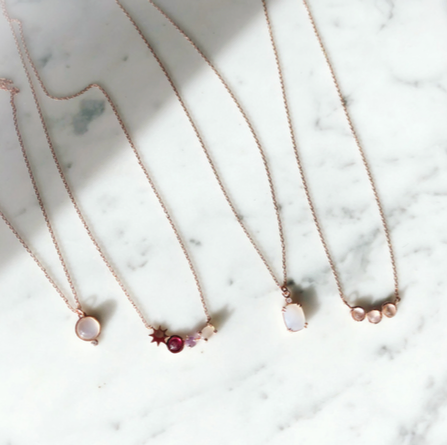 I use silver and bronze in my designs. I like the color and usefulness of both types of metals.
Natural stones blend well with these two metals.
Would you like to detail your brand's future goals for us? What kind of activities do you plan to actualize in the field of design and marketing?
Thanks to our online websites, Lucida is now attainable across Turkey. There are sales points in Amsterdam and Barcelona. It is a great feeling to know that there are women wearing Lucida in various parts of the world. Thereby, my biggest goal will be to increase sales points and reach more women in the world.