While preparing our collections, it is our priority to reach our customers with comfortable, stylish and" timeless'' products and to provide our customers with the expected quality and comfort in the best way possible.
Can you tell us about the Stefanel brand and your collections?
Stefanel brand was founded in 1959 in Italy. In its 60-year history, it has beco- me a pioneer of Italian fashion and a symbol of perfection. From the very be- ginning, it has established itself in cities such as London, Berlin and Milan, one of the main centers of fashion with a strong international approach. Stefanel continues to exist in nearly 50 countries in the reachable luxury segment.
The brand has an invaluable history and an invaluable place in the history of Italian fashion.
While preparing our collections, it is our priority to reach our customers with comfortable, stylish and "timeless" products and to provide our customers with the expected quality and comfort in the best way possible.
Would you like to elaborate on the position of Stefanel both in Turkey and in the World?
In its 60-year history, Stefanel has beco- me one of the most important brands in Italy and has continued to increase its worldwide brand recognition with basic values which are: high-quality products, mastery and customer focus. All of the- se values will continue to move towar- ds the future by strengthening with the correct marketing strategies and continuous improvement of customer experiences in stores and will be the most effective means of maintaining its strong position in the world market.
We have a serious loyal customer base that depends on the quality of Stefanel in Turkey, as it is in the world markets. Our customer base consists of women who are highly aware of their comfort and elegance while drawing a contem- porary and strong profile.
What criteria do you observe when selecting your fabrics and your designer preferences while preparing your collecti- ons?
Each season's designs include season-spe- cific touches according to the messages the collection wants to give and carries the brand's core values and heritage, and Stefanel DNA even in the smallest detail. Our priorities are to create a timeless elegan- ce that can adapt to any environment at all times while presenting elegance and comfort at the same time.
Can you tell us about your first spring/summer creation? How does Stafanel greet summer, and do you have favorite products?
For the 2019 Spring / Summer Collection, Stefanel is inspired by the 30s, remembered by the revolution of knitted clothing where innovation meets design and production. The '30s were also the days when women became liberated as the beginning of the search for everyday looks and comfort that had an impact on women's choice of clothes. Stylish clues redefine an elegant definition of femininity on a soft, light silhouette that brings out a brand new sophisticated comfort concept.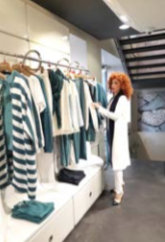 The collection, as drawn by sharp lines, is also portrayed by contemporary dynamism. With the perfect harmony between contrasts, elegance meets everyday clothing.
Our tricots are again taking place as a powerful element in the 2019 Spring / Summer collection. Soft profiles and light weavings reveal a much more natu- ral form of the body; Stitches and fine yarns produced reveal the brand DNA and the Stefanel heritage. An innovative approach combines knitted fabric and fabric enriched with precious embellishments and handmade embroideries. Inspiration from multi-colored linen pieces combines geometric touches with pleated jacquard textures. Wicker stitches reveal the gentle interplay of sewing points on fabric, two-tone weaves, and transparencies.
In short, this season, as always, will encounter our customers with, feminine, elegant, stylish, comfortable products and sophisticated lines.
What kind of developments can there be in the future in ter- ms of new trends, fabrics, colors, and patterns?
Fashion is a phenomenon that changes quite quickly, but can also repeat itself at certain intervals. From time to time, It can expose us with crazy designs enough to surprise us. But in recent years, considering the fact that our lives are getting more intense, we see that fashion also bring functionality and com- fort into the forefront.
Feeling comfortable in the hustle and bustle of life is now a top priority for many people.
What is important to us is to offer our customers comfortable and contempo- rary products under the essence of fashion.
We are welcoming everyone to discover Stefanel's Spring / Summer 2019 collection! in our stores !!…